TAVI Explantation: Is it possible with surgical method?
Case Presentation: Age 78, severe aortic stenosis, cardiac left ventricular ejection fraction (cardiac pumping capacity) is 35%, TAVI (biological aortic valve replacement through inguen) has been performed. Patient's complaints continued and after 1 month, valve leak is observed (paravalvular leak) and TAVI (2nd implantation) operation is renewed.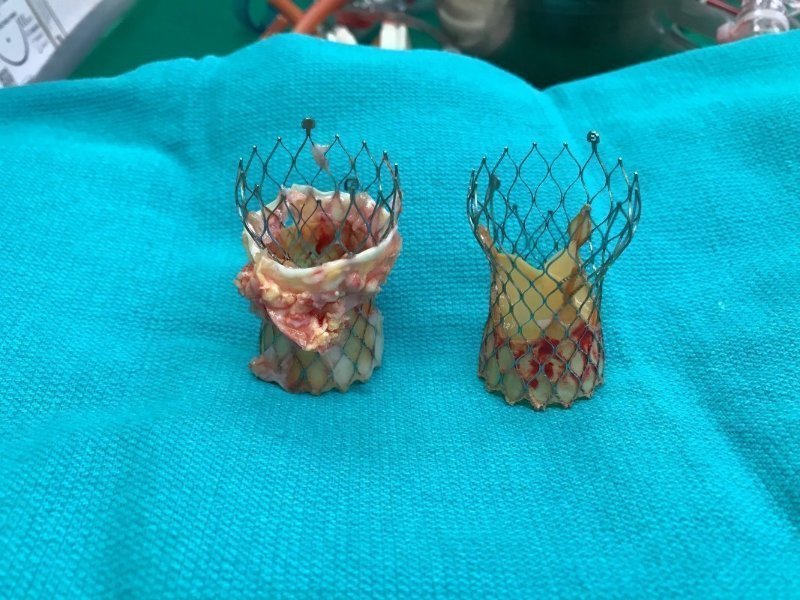 Case: 78 years old male patient applied to a full-fledged hospital because of severe aortic stenosis. Because of examinations that has been made, 35% cardiac left ventricular ejection fraction (EF value shows contraction rate of the left cardiac) is identified. Besides coronary failure, patient has also compensated renal insufficiency (creatinine 1,6 mg/dl). Regarding his age and general condition, TAVI method is decided to be performed.However, after TAVI implantation, complaints continued an even increased and the patient applied to the same hospital again. After an examination, severe aortic stenosis is found and "Valve in Valve" which means 2nd TAVI operation is performed for the treatment of the case. This 2nd operation did not help the patient and his complaints increased even after the 2nd surgery. Other complaints accompanied such as cerebral embolism, speech and gait disorder, increased renal insufficiency (creatinine 3,1 mg/dl) and left ventricular ejection fraction has decreased to 25%. In echocardiography, besides severe aortic insufficiency, there was ventricular septal defect (VSD, hole in both cardiac)
Surgical Procedure: During the operation Median sternotomy and cardiac pulmonary bypass surgeries have been performed and 2 biological valves (TAVI) are taken out of the patient (picture), aortic valve is changed with classical biological valve, mitral valve is repaired with annuloplasty method, small VSD is sutured and closed. During the surgery, it has been realized that the valve that is implanted in the first TAVI surgery have approached near anterior leaflet's ventricular side and caused the restriction of the leaflet plus it caused perforation on the corpus side of the leaflet.
It is estimated that the VSD is formed because of a perforation in membranous septum. Total cardiac arrest duration is 78 min. and cardiopulmonary bypass duration is 96 min.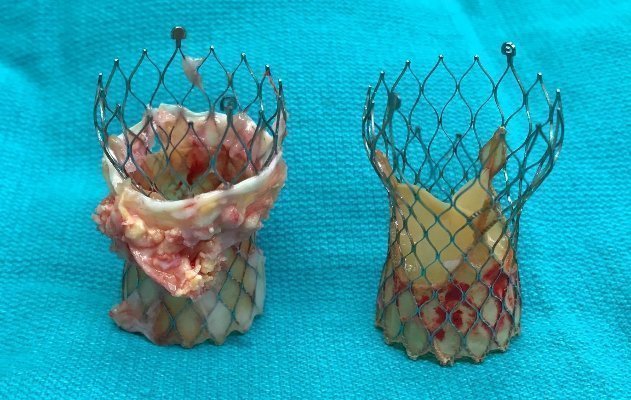 Post-op Period: After the surgery, the patient stayed in Intensive Care Unit for 1 day and he is discharged at the end of the 7th day. Creatinine values are decreased to 1,1 mg/dl, and in the echocardiography, there was no leak in Aortic or Mitral Valves, EF value has again increased to 40%.
Discussion and Conclusions: Indications of TAVI implantation and possible complications should be studied in a detailed way by the patient who is going to approve the method. It should be accepted that cases that are regarded as "risky" for open heart surgeries are risky for TAVI method too. Like this case, explantation of TAVI is difficult comparing to regular valve surgery but it is possible. However, it should not be forgotten that high-risk open-heart surgeries are "Gold Standards" with experienced doctors.
References
1) Neurologic Complications of Unprotected Transcatheter Aortic Valve Implantation (from the Neuro-TAVI Trial). Am J Cardiol. 2016 Nov 15;118(10):1519-1526 Am J Cardiol. 2016 Nov 15;118(10):1519-1526
2) Incidence and treatment of procedural cardiovascular complications associated with trans-arterial and trans-apical interventional aortic valve implantation in 412 consecutive patients. Eur J Cardiothorac Surg. 2011 Nov;40(5):1105-13. doi: 10.1016/j.ejcts.2011.03.022. Epub 2011 Apr 22.
---
---