Aort Kapak Değişimi; Neden Küçük Kesi?
Her geçen gün teknolojide ilerlemeler kaydediliyor. Tıp mesleğimizde de, bu teknolojik değişikliklere paralel olarak bir evrim yaşamaktadır. Resimde görünen hastada, 3,5 cm lik bir kesiden, 2,5 cm çapında bir metal kalp kapakçığı hastaya takılmıştır. Yani "açık" kalp ameliyatı, bu yöntemle "kapalı" hale getirilmiştir.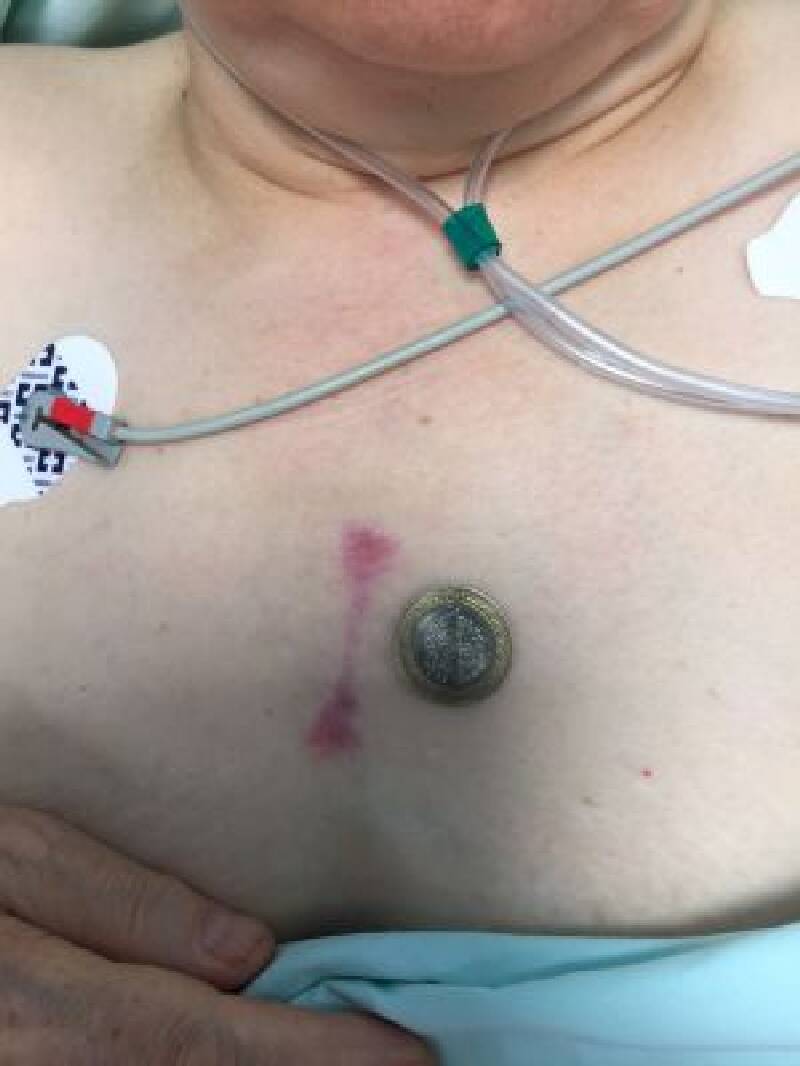 Fazla kesi her zaman için cerrahi branşlarda hastaların bir korkulu rüyası olmuştur. Elbette biz cerrahlar için kesi çok önemlidir. Özellikle kalp cerrahisinde tüm organ yapılarını görebilme, bunların komşuluklarına hakimiyet ve bir komplikasyon anında (örnek: kanama) bunu yönetebilme cerrahın tecrübesi ile doğru orantılıdır. Yıllardır Full Median Sternotomi (göğüs kafesini tamamen açma) biz kalp cerrahları için, ameliyat esnasında hakimiyet açısından gerekli idi. Teknolojideki ilerlemelere paralel olarak, hastanın gözünü korkutan, ameliyattan kaçındıran uzun kesiler de yavaş yavaş küçülmeye başladı. Sadece korku da değil sorun, gittikçe estetik de ön plana geldi.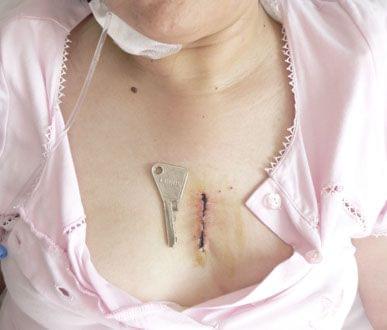 Yandaki resimde de olduğu gibi, bir zamanların büyük
kalp ameliyatı
(
Aort ve Mitral Kapak Değişimi
) artık böyle bir kesiden gerçekleşmektedir. Türkiye'de
romatizmal kapak hastalığı
daha çok genç yaşlardaki vatandaşlarımızı sıkıntıya sokmaktadır. Genç yaşta kapağı değişen bayan olsun erkek olsun herkesi kesi düşündürtmektedir. Ama böyle küçük kesilerle yapılan "kapalı" ameliyatlar postoperativ dönemde (ameliyat sonrası) psikolojik açıdan oldukça pozitif enerji vermekte, ağrı ve kötü hissetme eşiğini artırabilmektedir.
Quality of Life
dediğimiz ameliyat sonrası yaşam kalitesini artırıcı bir unsur olmaya başlamıştır.
Kalp cerrahisinde meslektaşlar artık şunu da düşünmelidirler ki, artık herşey girişimsel bir yönde ilerlemektedir. Bu sebeple klasik yöntemlerin dışında, hasta konforunu ön planda tutan ameliyatlar ve girişimler ön plana gelmiştir. Bu alanda "trene binilmesi" gerekli olup, daha da geliştirme yoluna gitmelidir. Minimal invasiv kalp cerrahisi artık tecrübeli ellerde, yanlış bir yol olmadığını kendi kendine ispatlamış, birçok merkezde rutine binmiştir.
Ancak şu da bilinmelidir ki, bu türden ameliyatların sonuçları asla klasik yöntem ile yapılanlardan kötü olmamalıdır. Yoksa kısa zamanda bir Öfori bizi kötü yola sürükler...

1) Aybek T, Two hundred forty minimally invasive mitral operations through right minithoracotomy. Ann Thorac Surg. 2006 May;81(5):1618-24.
2) Yang M, Comparison of postoperative quality of life for patients who undergo atrial myxoma excision with robotically assisted versus conventional surgery. J Thorac Cardiovasc Surg. 2015 Feb 11. pii: S0022-5223(15)00119-1. doi: 10.1016/j.jtcvs.2015.01.056
3) Aybek T et al. Clinical outcome, pain perception and activities of daily life after minimally invasive coronary artery bypass grafting. Anadolu Kardiyol Derg. 2014 Mar;14(2):172-7. doi: 10.5152/akd.2014.4570. Epub 2014 Jan 14.
---
---