Meaningful Gift for Women in Cyprus
For the early diagnosis of Breast Cancer and raising awareness about this illness in Cyprus, the mobile application of self-check breast examination and remote monitoring system have been activated. Press conference and award ceremony was held in Cyprus.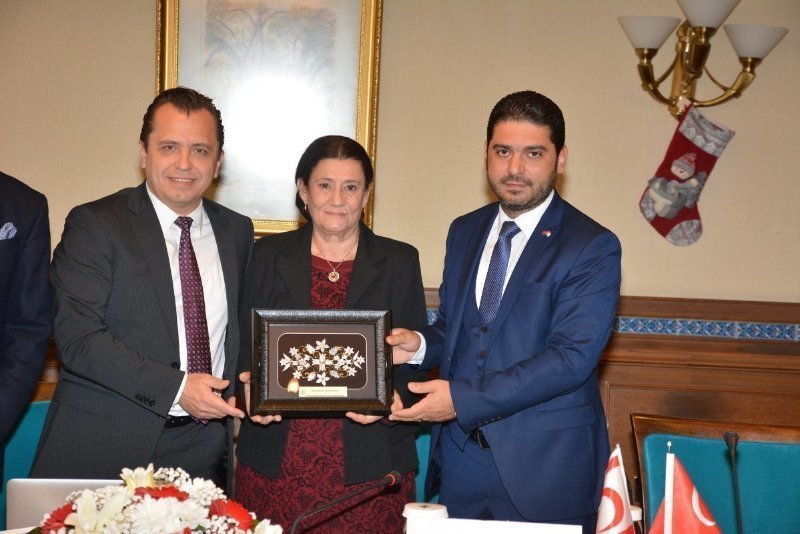 The mobile application project, initiated by the Head of Cyprus Healthcare and Travel Council Ahmet Savaşan, designed and developed by Prof. Tayfun Aybek, MD, academician at TOBB ETU University Medical School has taken it's place on Apple Store on January 2nd 2017.
On average, an individual woman has 1-in-8 chance of developing breast cancer over the course of her lifetime. Breast tumors are generally diagnosed by routine examinations and can be treated with early diagnosis. However, most of the women underestimate the importance of these examinations. Also, when these examinations are not performed by the same hospital or doctor, the records are likely to be lost.
Conducting Research and Development studies on Patient Monitoring Systems and being the project coordinator of TUBITAK in this field, Prof. Tayfun Aybek, MD -head of the Cardiovascular Surgery Department at TOBB ETU University Hospital- prepared the technical infrastructure of this system. Thanks to this new application, women are able to self-check at their homes and get necessary training for self-check breast examination through the mobile application. With the application, they may also archive their results on a calendar and send it to their doctors through the application while benefiting from application's reminder functions.
Prof. Tayfun Aybek, MD said: "If we can just encourage women, our partners or potential patients to make self-check breast examinations with this application before it's too late, it will make us proud." and he continued as follows: "We are still continuing to improve Research and Development studies of the mobile application. Very soon, we will be integrating medical device detection into the application. In this way, all the results of medical devices that are provided by patients will be transferred to doctors and report through the system. Patients will also get the chance to make video conferences face-to-face with their doctors and get information through Self-Check mobile application.
At the press conference that is held in Cyprus, the Head of Cyprus Healthcare and Travel Council Ahmet Savaşan announced that the application is given to women in Cyprus as a present which means they are able to use this service for free.

The head of Cyprus Association of Cancer Patients & Friends, Raziye Kocaismail, claimed that this application is a miracle and it will be very useful. She also said that they will take necessary steps to make their members use this application.
The "Self Check" application, developed with mutual efforts of Prof. Tayfun Aybek, MD-Cardiovascular surgeon at our hospital- and TOBB ETU University's Research and Development department, will be launched in Google Play Store very soon. Congratulations Cyprus!
---
---